Monthly Archives:
February 2012
The Daytona 500 FINALLY happened last night. And, thanks to a little love from mother nature and an eight foot wall of fire, Twitter won this year's Daytona 500 and ended up taking the victory lap in our timelines.
It all started, as it always does, with one tweet. Namely, Brad Keselowski's in-car Twitpic of the huge fire after Juan Pablo Montoya crashed into a service truck that contained jet fuel. This started a chain of events that led many of the drivers to step outside of their cars, hang out and talk to each other!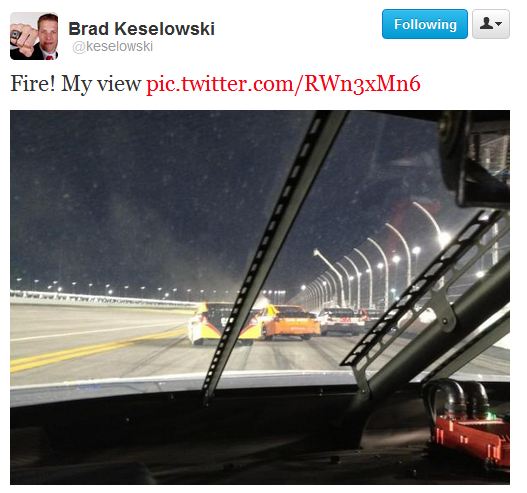 If that wasn't crazy enough, somehow Keselowski was keeping everyone updated throughout the entire stoppage, during which time he amassed more than 100,000 new Twitter followers.
As all this was taking place, the clean-up crews threw down a mix of fuel absorbent, bondo, water and Tide. Yes, Tide. The announcers made quick reference to Tide, Twitter blew up and the serial tweeters started to monitor the Twitter feeds to see how Tide would step up.
In short, they didn't. I noticed they hadn't tweeted in hours or before the start of the race. I wasn't the only one who noticed; within minutes of this realization, the blog wizard, Mack Collier, posted about the "hails and fails" during the race.
Taking a look back just one year ago I wrote a blog called, "I Can Make You a Celebrity Overnight"(thanks, Kanye) and discussed how two up and comers, Esperanza Spalding and Trevor Bayne, had made significant social jumps because of their mainstream appearances. Today is no different.
Brad Keselowski's Twitter activity boosted him close to 100,000 fans from red flag to checkered flag, while @Tide was nowhere to be found. Seriously, P&G pushes #tidepower and they missed out on capitalizing on how they cleaned up an entire race. Someone's ears are hot this morning.
It's funny that almost exactly one year ago I sat in front of the Daytona Speedway's head of marketing and said "you know you need to get on Twitter a lot more and use these hashtags…they're going to be big."
He walked out of our office and never came back…
This made for some great conversation online, as Tide's washout gave way to some great Twitter banter between myself, Amy Howell, Mack Collier, Tim McGugan, and Megan (@Skeetle, because I didn't know your last name Megan!) Here are some of the highlights:
Ziing! RT @HowellMarketing: Tide: stains social media by not monitoring it's brand (really) @MackCollier @skeetle @tide

— Nick Cicero (@nickcicero) February 28, 2012
If Tide wants to GAIN an advantage, they need to be ALL in, and SNUGGLE w/twitter more often @howellmarketing @nickcicero @tide @MackCollier — Tim(@TDJaxTim) February 28, 2012
And bleach out the bad news? @TDJaxTim @nickcicero @tide @mackcollier

— Amy D. Howell (@HowellMarketing) February 28, 2012
Twitter has got to be buzzing this morning. From someone who lives and works in social media in the southeastern U.S., this is big. There isn't a huge "NASCAR-first crowd" who are also active Twitter users. The Daytona 500 served as a kick-off to get a new demographic engaged and tweeting.
So what deal did Jack and Biz make with the Southern Devils to turn NASCAR into a weekend long demo of Twitter? You got me.
To recap:
If you're running a MAJOR brand in the social media space, you always need to be ready to work. Your customers don't limit their online engagement to the hours of 9-5, and you'd be a fool if you allow your communications to run on that same schedule.

Twitter is the best social media channel because of its real time, short form nature.

I lived in Daytona Beach, the mecca of NASCAR, for a year and thanks to Twitter, I spent more time genuinely interested in NASCAR this week than I did in the entire year I spent there.
Thanks Twitter, NASCAR and the town that will always have a special place in my heart, Daytona Beach.
UPDATE: Since this morning, the folks behind the @Tide account have started a tweeting frenzy retweeting all of the folks who made mentions last night. As of 10 a.m., they hadn't retweeted any of our posts ;)
Originally posted on the On Ideas Blog
Sunday afternoon I was whipping up a batch of the famous Cicero family sausage bread when I called my mom to get some last minute baking advice. The conversation quickly turned to Pinterest. My mom was so excited to tell me about how she

was in the middle of redecorating her and my dad's bedroom and she found it all on Pinterest. Thinking back on my family's purchasing history, we have used catalogs for other comforters and home items, and boating and fishing gear always came from Cabela's catalogs, so Pinterest seems pretty natural.
What was interesting was how she described her process of using the site. She doesn't follow many boards, and mainly uses her iPhone. When she saw the room design on a friend's board, she followed it to a blog dedicated to all things turquoise, called aptly enough House of Turquoise. That took her to another site (West Elm) to find the exact duvet cover and another site for the proper paint.
"It took me to Sherwin Williams, where I've never gotten paint before."
Not to say my mom has never visited a blog or ordered online, but the process by which she found all these different pieces online through social media was definitely something different that I think even she realized, which is why she told me.
So will Pinterest take over as the next big wave in social media? Perhaps. It's already well on its way with more than 10 million users, and in January of 2012 reports showed it generated more referral traffic than Google+, Youtube, and LinkedIn combined. It's visually appealing and addicting especially with all the cool stuff there is in the world.
For me, to see a piece of tech get introduced to my family and then traced to a purchasing decision is blogworthy, and as a brand, you can't help but see this example as a shift in behavior that can be a new way to develop relationships with your community.
In a little over a week, Facebook will officially announce the introduction of Timeline for Pages at the first ever fMC Marketing event in New York City. While this will take some time to roll out to all pages, businesses should start to think about how Facebook will fit into their overall communications strategy for the next year.
What does this mean for brands and their presence on Facebook? For starters, the look and feel will move to the more storybook-inspired Timeline. Since Facebook first introduced Pages for Businesses, they have been an extension of, and in many cases, a replacement of a website. Now, social applications are the future.
It's no coincidence that Facebook launched Timeline back in October with partners like Nike+ and Spotify. In the future custom tabs will most likely take the form of boxes like these do on the timeline, but Facebook is definitely encouraging brands to develop applications using the open graph now. Not only does it create more personal and relevant content for each user, but brands are rewarded with a wealth of insights about their customers, and the ability to target them in the future through ads.
For many brands and organizations, the cost to develop custom applications is just too high. It's no secret that this move definitely increases the cost to play on Facebook, but there are already a number of ways to take advantage of a multitude of existing social applications to bolster your plan.
Video
The amount of video content moving online is increasing by the minute. 48 hours of video are uploaded to Youtube every minute, resulting in nearly 8 years of content uploaded every day.
You can use video to dominate search results while creating longer engagement with your audience.
Video still looks great inside Facebook, that won't change.
Photos
Sites like Instagram, Tumblr, and Pinterest have reintroduced a more visual experience on the web. While Facebook pictures have always been a key element to their success, these other niche sites provide a new opportunity to connect your community to one another.
Blogs
People are growing more comfortable reading articles online, so create a destination to satisfy people's desire to click off Facebook and read some more about you or your company.
This is space you can own, branded the way you want it to, and can drive conversations about the goods, services, or ideas that you're looking to share.
Search is key, so a well-maintained blog strategy can serve your business well when it comes to web traffic.
Drill down your company into key words or phrases. One way to start is to create word dumps of anything and everything one could possibly say or think when it comes to your community. Write or type all those words.
Public Relations
Certain newspapers are more prominent that others on the Facebook social graph. By targeting creative pitches to these forward thinking media outlets, there are opportunities to have your name or story bounced around the social web much more than a traditional placement.
Other
Sites like Spotify, Soundcloud, Turntable.fm and more offer interesting opportunities for those with a creative mind and a creative brand. Use other social sites that are already playing nicely with Facebook to bring different experiences to your users.
For example:
Host podcasts on Soundcloud so your Facebook fans can open the audio file right on their mobile device as they go. Use the same soundcloud file and embed it on your blog/site.
Create themed rooms inside Turntable.fm and invite fans to share a common experience like listening to music.
Facebook is neither the beginning nor the end of the social web. It's simply another communication channel that has intensified the acceptance of interacting and sharing online. It's behavioral. The goal now for businesses should be to identify the community they are trying to serve, and understand their needs, wants and desires.
If your goal is to sell, then sell by all means, but do it while offering true value. We all should aspire to better our communities, which in turn will better everyone.