Local Updates were yesterday, and now with today's roll-out of new Foursquare features for users and managers, the site is beefing up it's value as a place to enhance the real world around you through social data. Here's a brief walkthrough of latest changes to foursquare:
A new way to explore: Foursquare offers up personalized suggestions based on the time
It's 5 O'Clock here, so clearly Foursquare knows it's time to burn some steam.
Access manager tools with the accounts menu
Just hover over your profile picture in the upper left corner and select the account you wish to manage from the drop-down menu: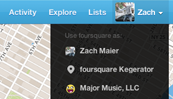 You can go back to using foursquare as yourself at any time by clicking "exit" on the yellow bar at the top of your screen.
Want to check in somewhere? Search for it.
To check in to places, search for the place using the search box at the top of your screen:

Once you select the place you're planning on checking in to from the results, click the check in button:
Remember to link your Facebook and Twitter accounts — pushing to those networks only takes one more click.
Introducing three new management tabs
Click on these links at the top of the screen to access:
Updates – See your past activity on foursquare
Dashboard – See stats about how your page is performing
Tools – Edit your page information and settings
More likes = bigger audience
When people like your page, your tips, lists, and check ins will show up right in their friends tab!